Response to COVID 19: Effective March 20, 2020, Derby Line Welcome Center was temporarily closed until further notice. Parking lots remain open. Port-o-lets are available. 
(This message is current as of October 2020.)
Open 7:00 AM – 7:00 PM, 7 days a week.
Derby serves as a gateway to the North East Kingdom for Canadian traffic entering the US.
This section of Interstate 91 opened in 1962. The facility was constructed in 1968.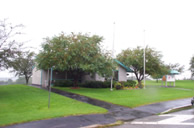 Derby Line Welcome Center
1076 I-91 South, south of Exit 29
Derby Line, VT 05830
Tel/Fax (802) 873-3311
Email: bgs.derbylinewelcomecenter@vermont.gov